Email me at This email address is being protected from spambots. You need JavaScript enabled to view it. or visit my IMDb page here which has my contact and agent info if you have IMDbPro. 
I am a minority: Female, Asian (Chinese: Born in Hong Kong, immigrated to Canada at age 2), and LGBTQ+. My pronouns are she/her.
Intro:
This site is about many things including those we have an "actor crush" on. This is when you develop a crush on someone's acting skills, think Philip Seymour Hoffman (RIP), Clifton Collins Jr., Rachel McAdams, Viola Davis, Emilia Jones (Coda) and now Kate Winslet. Kate, specifically the one in her mid 40s, the one now. She's just more beautiful with every day.
Where have I been? Not until I binged-watched Kate Winslet's interviews on the acting PROCESS and its HARD WORK, did I want to do this. I want to be an actor (actress). This was BEFORE the Mare of Easttown hype. Watching Kate's movies/shows is the best free actor's guide/education EVER. Even just looking at how she takes in the persons she's speaking with or the environment she's in. Should note that it was Francis Lee's 2020 film Ammonite and then learning about the why / what / acting process from Kate interviews, that sparked something amazing and unexpected in me.
=========================================
May 26, 2023:
Proof that Kate Winslet is the best most amazing actress. Because as Evan Peters says, she's "f*cking incredible" & talks to *everyone* on set no matter the hierarchy. Many actors who have just 1 line stop being so gracious/humble. thx #KateWinslet <3
Link to article: https://t.co/vWDpJysfJ2
Screenshot from article: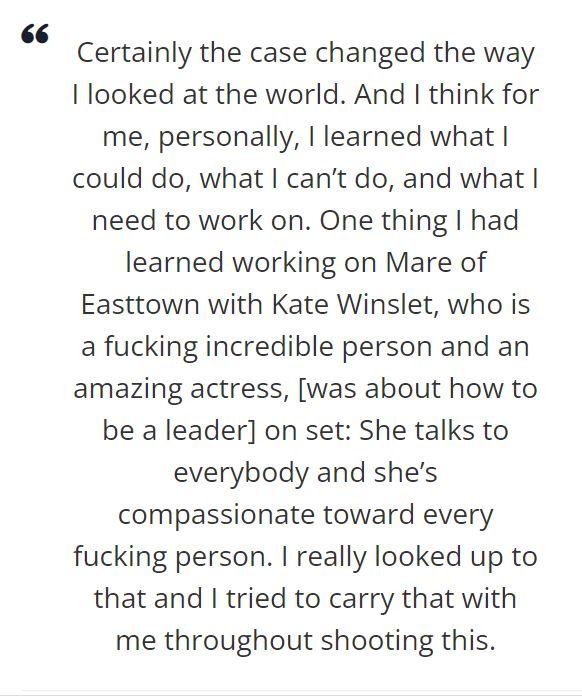 =====================================
April 25, 2023: I guess Kate Winslet is helping "bridge the gap" between my mom not understanding what a podcast is. She didn't understand my "What Would Kate Do?" podcast, but bless her, she listens to every episode I put out. Today, she texted me this (about my latest episode about Kate in the trailer for HBO's The Regime): "Just saw the trailer & heard your podcast, how many times have you seen the trailer to be so detailed & specific about Kate's performance. I was just amazed that you could talk / describe so much about Kate just from that trailer.... You can be a good film critic!"
LOL thanks mom. Yes, I'm making my mom, who's first language isn't English, to listen to a podcast that is all about Kate Winslet and acting. :D
===========================================
UPDATE MARCH 12, 2023: It was the Oscars tonight. As much as this site is devoted to Acting and Kate Winslet   ....  I have to say THANK YOU THANK YOU THANK YOU to Everything Everywhere All At Once, and every single person behind it (cast, crew, writers, everyone). Because of you, I finally feel noticed as an Asian (female, she/her, lgbtq) person and actress. Congratulations to Ke Huy Quan, Jamie Lee Curtis, and Michelle Yeoh for your well deserved acting Oscars, and also for all the work you've done over the course of your lives.
=============================================
small note: The word "nuanced" to praise someone's acting performance is overused! Just a pet peeve of mine. Also, let's stop always using the word "organic" to describe a filming process. :D
=============
February 27, 2023: I'm still crying and over the moon, listening to all the down to earth, gracious, genuine speeches made by all the actors and actresses who won last night at the SAG awards, especially those who won for Everything Everywhere All At Once. Because of you, lots of people like me believe more. That we will be seen. Thank you Michelle Yeoh, Ke Huy Quan, Jamie Lee Curtis, and James Hong, and everyone.
https://www.instagram.com/p/CpMsOsguY0n/?hl=en 
-------------------------------------
February 1, 2023: I just saw this actors roundtable (with Brendan Fraser, Austin Butler, Jeremy Pope, Colin Farrell, Ke Huy Quan, Adam Sandler) and teared up many times. Ke Huy Quan talks in the beginning about thinking that nobody ever wanted to see him (an Asian) act again, and really all these actors have valuable things & lessons to share about acting, life, and the process. And Jeremy Pope (black gay actor) is so eloquent, I love listening to what he is saying and I relate to him a lot. The lessons that all the actors share at the end are priceless:

https://www.youtube.com/watch?v=hJH2EyvvEBA&ab_channel=TheHollywoodReporter
---------
It's later (January 15, 2023): I'm conflicted. I'm a gay LGBTQ actress (pronouns she/her) AND BIPOC, yet my fave actress is Kate Winslet. Only because of her work, and the things she's said about the acting process and why she loves it (it's not annoying and indulgent as she has indicated it is). She is the reason I found my passion. One's race should never come before one's performance but yet I understand how important it is to be SEEN. I cheer when anyone of my skin color is recognized and celebrated, even when they aren't even my ethnicity (I am Chinese, but am happy to see Koreans win, for example). I wish acting and awards wouldn't fuel this weird "competition" between different races / ethnicities / skin colors. I support Andrea Riseborough and her performance in "To Leslie" all the while being aware that there's been some backlash (some from folks who aren't fully informed about the whole situation) about the Oscar / Academy backing a white actress. I wish I lived in a world where none of this matters and it can just be about the acting because in this dream world, there's already equal opportunities. I should also mention that the actress I relate most to based on beauty and not being seen and being told you don't fit in, is the beautiful and TALENTED Viola Davis. <3
---------
January 10, 2023: Will write more later but THANK GOD that Michelle Yeoh and Ke Huy Quan won tonight at the Golden Globes. Finally Asian actors / actresses with my skin color are being seen and recognized, and awarded.